There are artists whose creations are born from a place of carefully calculated technique and aesthetics, in their desire to create something of worth and beauty. Then, there are artists, who, fundamental to their aesthetic sense and technical skill, draw from something much more profound: a wellspring that flows from their very passions and philosophies. Their work is an embodiment not only of beauty, but also of the sublimities of soul. Mizuki Nishiyama is one such visual creator. Her paintings, a confluence of predominantly bold expressionist style and her Japanese heritage, are a portal through her life's journey, as well as into her mixed-race identity. The result is a body of work that is visually stunning and deeply moving—provocative and evocative, all at once. And the international art community has most definitely taken notice.
Creating from cross-cultural convergence
Mizuki is what one would call a true multinational; a woman of the world, so to speak. "My father is Japanese, my mother is from Hong Kong, and they've both spent a big part of their lives in Italy. I was born in Hong Kong, attended Canadian International School of Hong Kong, moved to New York to attend Parsons School of Design, and now I live in London whilst completing my Masters of Fine Arts at Central Saint Martins," she shares in an interview with Bridges.
From a young age, she has had a keen awareness of her diverse cultural heritage and mixed lineage. Yet she has also keened to the commonalities between each culture, from which she derives much of her inspiration. "For the longest time, I have been introducing myself as a mixed-Japanese individual. To me, identity and culture is so complex yet basic," she notes. "Instead of calling a practice 'very Chinese' or 'very Italian,' etcetera, I've noticed myself assimilating like-minded ideas across cultures that are just simply values."
For instance, one of her earlier works, B.D.P.C, a mixed media piece on wood created in 2016, depicts faces that resemble Japanese oni and kabuki masks, in a Dante-esque infernal setting. The work, said to be one of Mizuki's personal favorites, is a synthesis of philosophies that allude to Mishima, Dante, Sade, and Bataille, depicting human chaos, isolation, and liberation.
Finding light and shadow in gray areas
Mizuki's multilayered culture and heritage speak through her work, as do her own personal expressions and experiences of the world in which she moves. "Painting itself is already quite a narcissistic practice, in my opinion. I recognize that a lot of my works stem from elements that are about myself, while also embracing universality. That is what makes art so meaningful. The dedication and personalization one can embrace with this practice can fuel it with so much power and meaning," she says.
Dreams
Coquetry
Auburn Touch
Ashirai
Alter Egos
Witch of the East
Ryo
Osorezan
In Praise of Shadows
Feeling Blue
"Fundamentally, my parents raised me with a lot of Japanese values, and stories. I would say my Japanese side has been a bigger influence, growing up. Nevertheless, I started diving into Japanese themes within my art to further understand my ancestry, cultural mannerisms, socio-politics of traditional and contemporary Japan, and so on. This became somewhat of a veneer for me to grab on to; perhaps fundamentally, I felt ashamed of not being 'Japanese' enough, to fully comprehend this experience. In boxed terms, I'm not 'full enough' (full Japanese), and I'm stereotypically 'Haffu' (the mix-race Japanese community). I somehow float in between; in between light and dark, in the gray areas of which I find more and more enticing. Creation and introspection has taken me in to dark places, but also helped me out of them. Creating has helped me understand death, life, love, pain, and most importantly this weird sweet and sour feeling about life that seems to always be lurking in the corner in life. Not everything is completely black and white, and that is another aspect I like to explore in my work, which is the 裏 "Ura" (the back, inside, underneath, or the shadow), and how it juxtaposes with light. " Mizuki adds.
Diving into the deep end of life
3 Chome
一人女 Hittori Onna
Okasan
Odori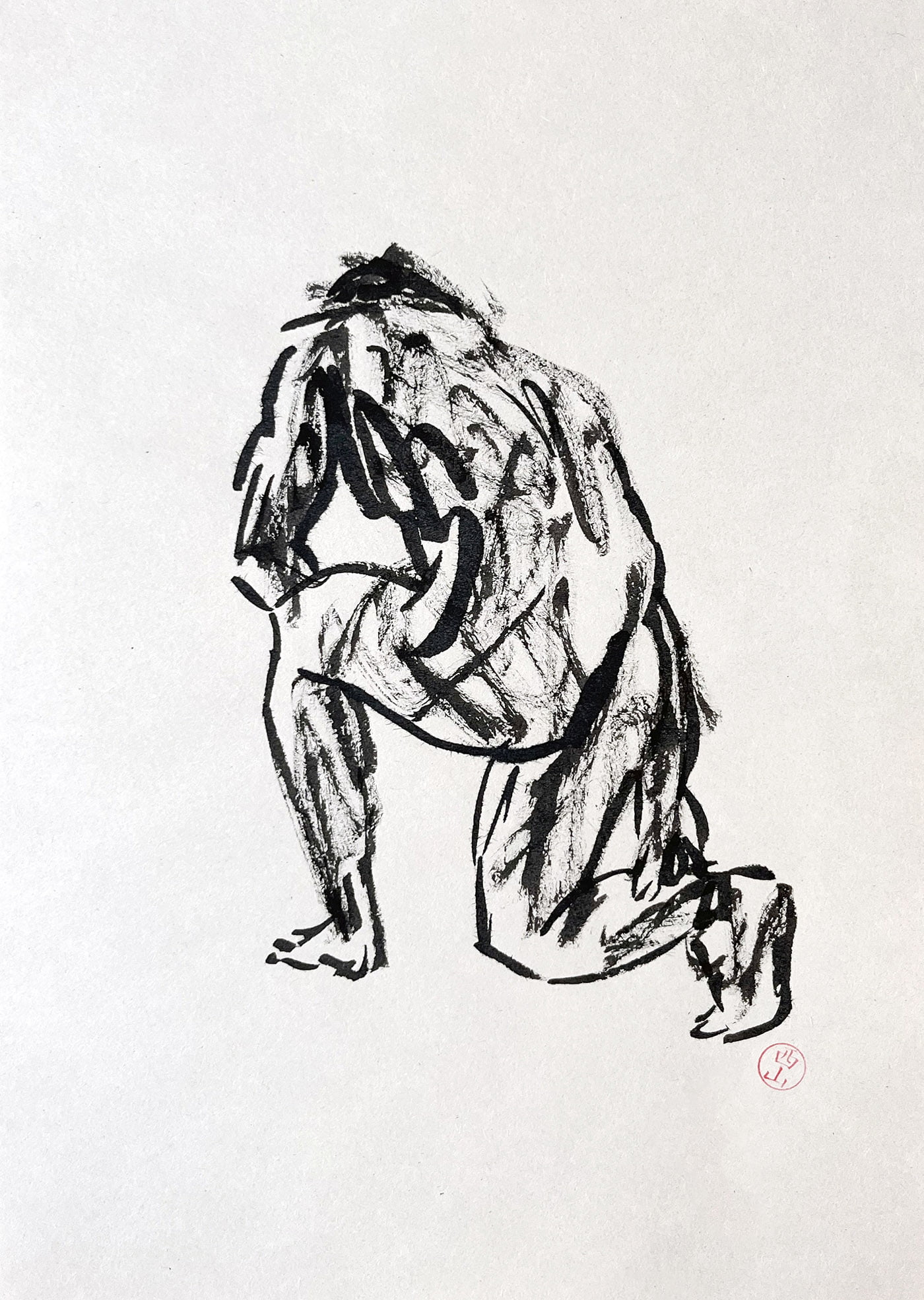 Late Spring
Hakuto
目優しい人 Me Yasashii Hito
Tic Tac Toe
Eros in Between
Behind the Shoji Screen
While Mizuki prefers not to be boxed into a genre, she admits to being heavily into the expressionist and abstract expressionist styles. The hallmarks of both styles are evident in her work, characterized by a freedom of expression, sweeping and vigorous brushstrokes, in large swaths of intense color. Each piece typically reveals the artist's spirit and soul; a foray into her very psyche. The profundity of Mizuki's art, in fact, belies her age—she is only in her early 20s, yet her paintings bear the depth of an artist who's lived a thousand lives. Through her work, she explores timeless themes like the human condition in its fragile and vulnerable state, love and lust, loss and loneliness, and the like.
She has over 30 international exhibitions under her belt, having held her first solo show in New York when she was just 18 years old. While it can take her anywhere from a day to a year to complete a painting, she is profusely prolific, with a creative flair that is seemingly boundless. But, when Mizuki does need to recharge, she looks to Japan for renewal, returning to the Kansai area once or twice a year. "Being in Japan, and around things related to Japan, gives me space and time to heal in a certain way. I would say that is the 'Japanese-ness' I tap into as I create. I'm really proud of and curious about my lineage. And, whenever I get to learn more about Japan—especially different philosophies, literature and classical arts—it makes me feel closer to something I wish I had a stronger platform and understanding in. However, perhaps that pull and closer inch after each revelation is what makes this process ever more enticing."