For 600 years, St Andrews has enjoyed a distinguished heritage as the 'Home of Golf'. As a must-visit golfing destination for well over a century, Rusacks St Andrews offers guests a choice of 120 guest rooms, a memorable stay surrounded by prestige and a service-driven approach to make every stay thoroughly enjoyable.
"The Rusacks St Andrews is a singular jewel of history and magic."
The renovated property includes a 42,000 square foot expansion and unrivalled panoramic views of the world's oldest golf course.
Rusacks St Andrews provides guests with a range of culinary outlets including a traditional Scottish pub and rooftop bar and restaurant overlooking the 1st and 18th holes of the Old Course at St Andrews and the Fife Coast.
Rusacks Rooms
Boutique Hotel Rooms
Rusaks St Andrews' highlands-inspired rooms are brimming with charm. Featuring warm woods, muted tones and luxurious décor, selected rooms feature prime views of the surrounding golf courses and landscape, while all offer an abundance of amenities to make guest stays as enjoyable as possible.
Rusacks Single
Compact but perfectly formed, the Rusacks Single features a double-size bed and stylish ensuite facilities with a spacious walk-in shower with waterfall and hand-held shower options.
Rusacks Double
The classic Rusacks Double is perfect for couples or those wanting to enjoy more space. Enjoy a sumptuous double-size bed with stylish ensuite facilities and a generously-sized shower including waterfall and hand-held shower options.
Rusacks King or Twin
Guests who select a Rusacks King can enjoy a light and airy space with a king-size bed and bespoke furniture. This room option is situated at the front of the hotel, so while there are no golf course views, guests can enjoy the amenities and a wonderful hotel experience.
Rusacks Double Double
Featuring two double-size beds situated side-by-side, this room option is located in the hotels original building. The room's beautiful furnishings complement its bright and airy proportions. A stylish ensuite with luxury shower ads tod the finishing touch.
18th View Double
For spectacular views over the Old Course and West Sands beach, this is the room to choose. This sought-after space offers a double-size bed and fabulous ensuite with shower, including waterfall and hand-held showering options.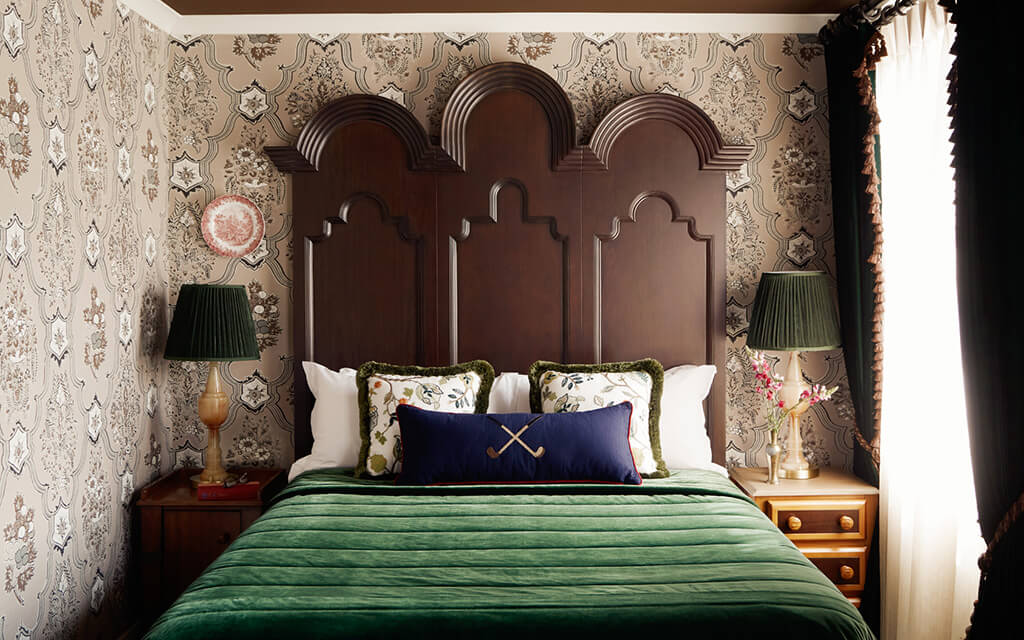 Links King or Twin
Guests can enjoy spectacular vistas of the Old Course and West Sands Beach. Featuring all the classic Rusacks' amenities and available as a king-size or with twin-beds on request.
Swilcan King or Twin with Balcony
Indoor and outdoor luxury can be enjoyed with the Swilcan King or Twin room. Both options feature floor-to-ceiling windows and elegant glass-panelled balconies – perfect for guests looking to soak in stunning views over the Old Course and West Sands Beach.
Golf
As the Home of Golf, St Andrews attracts players from around the world. The linksland is challenging, the views are magnificent and nature is most certainly in play throughout the unique landscape at Rusaks St Andrews. Here are the top picks of nearby courses to check out:
New Course
The New Course was created in 1895 by Old Tom Morris and Benjamin Hall Blythe to help alleviate overcrowding on the Old Course. It has been described as a tighter and more defined course than its famous neighbour and considered a classic test of links golf, with undulating fairways and challenging greens.
The Old Course
The most ancient of the seven courses at this site, The Old Course is imbued with 600 years of golfing history. As well as its association with Old Tom Morris and the landmark Swilcan Bridge, its location, historical significance and renowned course features make it a pleasure to play.
Jubilee
Originally a 12-hole course designed for women and beginners, Jubilee was extended to 18 holes in 1897 and is said to be the most challenging at St Andrews Links. Its location between the New Course and the sea creates demanding golf terrain. It was converted to Championship layout in 1988 for this very reason.
Castle
The newest addition to the St Andrews family opened in 2008 and is set on a rugged hilltop with incredible views over the town. Despite its man-made origins this 18-hole gem blends beautifully with its linksland counterparts and provides a sometimes tricky but always scenic round of golf.
Eden
Described as a 'course full of character', Eden opened in 1914. Its contoured greens, designed to promote drainage, set the benchmark for modern putting surface design. Created by Harry Colt, Eden is considered the most undulating of all St Andrews' courses, with sloping greens and plenty of humps, hollows and bunkers to create dynamic play.
Balgove
Balgove is the only nine-hole course at this site and is perfect for beginners, families and children. It was completed in 1972, remodelled in 1993 and offers a wonderful introduction to links golf with a double green and bunkers.
Strathtyrum
Designed by Donald Steel, this course opened in 1993 and complements the more challenging Championship courses in this group. Its 15 bunkers, although few in number, are strategically placed, while its large greens feature slopes and borrows that demand skilful putting.
Elie Golf Club
A 20-minute drive south from St Andrews is Elie Golf Club, located in East Neuk on ancient golfing turf: the game has been played here since the 15th century. The club is renowned for undulating fairways, large, fast greens and strategically placed bunkers, all of which combine to create a superb golf experience in a stunning coastal setting.
Scotscraig Golf Club
Founded in 1817 and designed under the tutelage of Old Tom Morris and later James Braid, Scotscraig is located around 20 minutes' north of St Andrews in Tayport. It's a unique mix of heathland and linksland and has remained relatively unchanged since James Braid's redesign in 1923, with large, rolling greens and cleverly placed bunkers offering a serious but fair challenge to all golfers.
Dumbarnie Links
New kid on the block Dumbarnie is a short drive from St Andrews to Leven and offers an incredible player experience. Developed and designed by notable course architect Clive Clark, this 18-hole, linksland course boasts 14 holes and with its dual elevation landscape offers breath-taking views over the Firth of Forth.
Kingsbarns
The prestigious Kingsbarns can trace its origins back over 200 years and is without doubt a 'bucket list' course for many. Only seven miles from St Andrews, the course is set along 1.8 miles of coastline which can be admired from seven holes played alongside the sea. Designed by Kyle Phillips, the generous greens, wide fairways and wild sea vistas offer a thrilling experience for players of all abilities.
Ladybank Golf Course
For a tricky inland test of skill, head over to Ladybank, just 30 minutes' drive from St Andrews. Designed in 1879 by Old Tom Morris, the classic heathland course has remained relatively unchanged, and is considered one of the finest inland layouts in the British Isles. Measuring 6,800 yards from the medal tees, it makes superb use of its landscape, testing even the most accomplished players with its small and often contoured greens.
Lundin Links
On the Southern side of the Fife coast, around 30 minutes from St Andrews, lays Lundin Links, another of Tom Morris' creations. The original site from 1868 was later redesigned by James Braid in 1909, who added in a further nine holes above the railway. It's been selected multiple times as a qualifying course for The Open Championship, perhaps due to the challenges it poses: burns, blind drives, narrow fairways and an ever-changing wind making for an unpredictable game!
Locally sourced ingredients
Rusacks St Andrews has teamed up with food innovators White Rabbit Projects and Derek Johnstone, one of Scotland's most renowned chefs and inaugural winner of MasterChef: The Professionals to create a Scottish-inspired range of dishes using the best in-season, locally sourced ingredients.
The Bridge
Offering all-day dining, The Bridge is a family-friendly, casual yet polished dining experience, with views of the centuries-old Swilcan Bridge and the Old Course.
Guests can enjoy a range of British and European dishes prepared with Johnstone's 'in-season and local' ethos in mind. Reservations strongly encouraged.
Breakfast: Daily: 7 am – 10:30 am
Lunch: Daily: 12 pm – 3 pm
Afternoon Tea: Daily: 12 pm – 4 pm (pre-booking required)
Dinner: Friday & Saturday: 6 pm – 9 pm
18
Led by award-winning chef Derek Johnstone and his culinary team, 18 is a destination rooftop restaurant and bar with unrivalled views across St Andrews' Old Course and West Sands Beach. Expect plenty of sizzle-open-flame cooking is one of the restaurant's fortes, with locally sourced beef, game and freshly-caught seafood all skilfully prepared on a state-of-the-art Robata grill. A laid-back but high-end dining experience. Reservations strongly encouraged.
Monday – Thursday: 5 pm – late
Friday: 3 pm – late
Saturday: 1 pm – late
Sunday: 12:30 pm – late
Dinner: Daily: 6 pm – 9:30 pm
Sunday Lunch: 12:30 pm – 3 pm
One Under Bar
When a thirst needs quenching guests head to One Under Bar, a favourite Scottish pub just one minute from the golf course. The extensive drinks menu includes fine ale, stout, red or white wine, a world-class dram or bespoke cocktails. Hunger pangs can be satisfied here too: traditional pub-food favourites are served at both lunch and dinner, and light bar snacks are also available.
All Day Dining:
Monday – Thursday: 1 pm – 10 pm
Friday – Sunday: 12 pm – 10 pm
"After a long day on the links, there's nothing like settling in for an old-fashioned pint or a legendary burns supper." Rusacks remains the stomping ground for the culturally curious golf traveller, an explorers' club and a living, evolving museum.
Address: Pilmour Links, St Andrews, KY16 9JQ United Kingdom
Phone: +44 (0) 1334 474321
Hotel Enquiries: info@rusacksstandrews.co.uk
Event Enquiries: sales@rusacksstandrews.co.uk
www.marineandlawn.com/rusacksstandrews