Hotel Indonesia Kempinski Jakarta opens its door to provide the most luxurious European service and guest rooms in town. The hotel is located next to the iconic Bundaran HI (Hotel Indonesia Roundabout) fountain at the heart of the city's main shopping, business and lifestyle district.
The Jakarta's landmark building is now managed by Europe's oldest luxury hotel group, Kempinski Hotels S.A, who has a long tradition of managing historic buildings, landmark hotels, and maintaining a unique collection of individual properties.
The landmark of Indonesia consists of two wings, the legendary Ramayana Wing and Ganesha Wing. Ramayana Wing featured two types of guest rooms: Deluxe room (44 sqm) and Grand Deluxe room with range size of 58-62 sqm with total of 129 rooms.
Ganesha Wing, a wing designed for premium business travelers operates a total of 160 rooms consists of 1 Presidential Suite, 4 Diplomatic Suites, 6 Salon Suites, 90 Executive Grand Deluxe, and 59 Deluxe room complemented by a lavish Executive Club Lounge at the seventh floor.
The most prestigious function room in Jakarta
The 3,000 square-meter Kempinski Grand Ballroom, which has successfully held various corporate activities, exhibition wedding and grand events. The historical oval shaped 1,000 square-meters Bali Room has become the most prestigious function room in Jakarta.
The Ramayana Terrace
This is one of Jakarta's most historically important landmarks, is a magnificent courtyard in the heart of the city. The first president of Indonesia, President Soekarno showcased Indonesian hospitality to the world there, in refined luxury.
Ramayana Terrace is now transformed into a multifunction space and the perfect place for corporate events, wedding parties and other social gatherings.
Signatures Restaurant
This all-day-dining restaurant serves both buffet and à la carte fare and has a 304-seat capacity, including two brand-new private dining rooms, with 36 outdoor seats and dedicated kids' play area. Kempi Deli – caters 30 seats (indoor), offers homemade produce such as dry pasta, bread, sausages and cold cuts as well sweet temptation of freshly made pastries, bakeries and cakes.
Lobby Nirwana Lounge
The Lounge has a capacity of 80 seats and is the perfect place to unwind.
Sky Pool Bar Café
The Café seats 50 people and offers various signature dishes including Wagyu beef burgers, nachos with spicy minced beef, nasi goreng Jawa and the famous black pepper beef. Sky Pool Bar Café is open daily from 8:00 to 22:00 and is accessible from the 17th floor of the Ramayana wing of the hotel or from the 11th floor of Kempinski Residence.
Paulaner Bräuhaus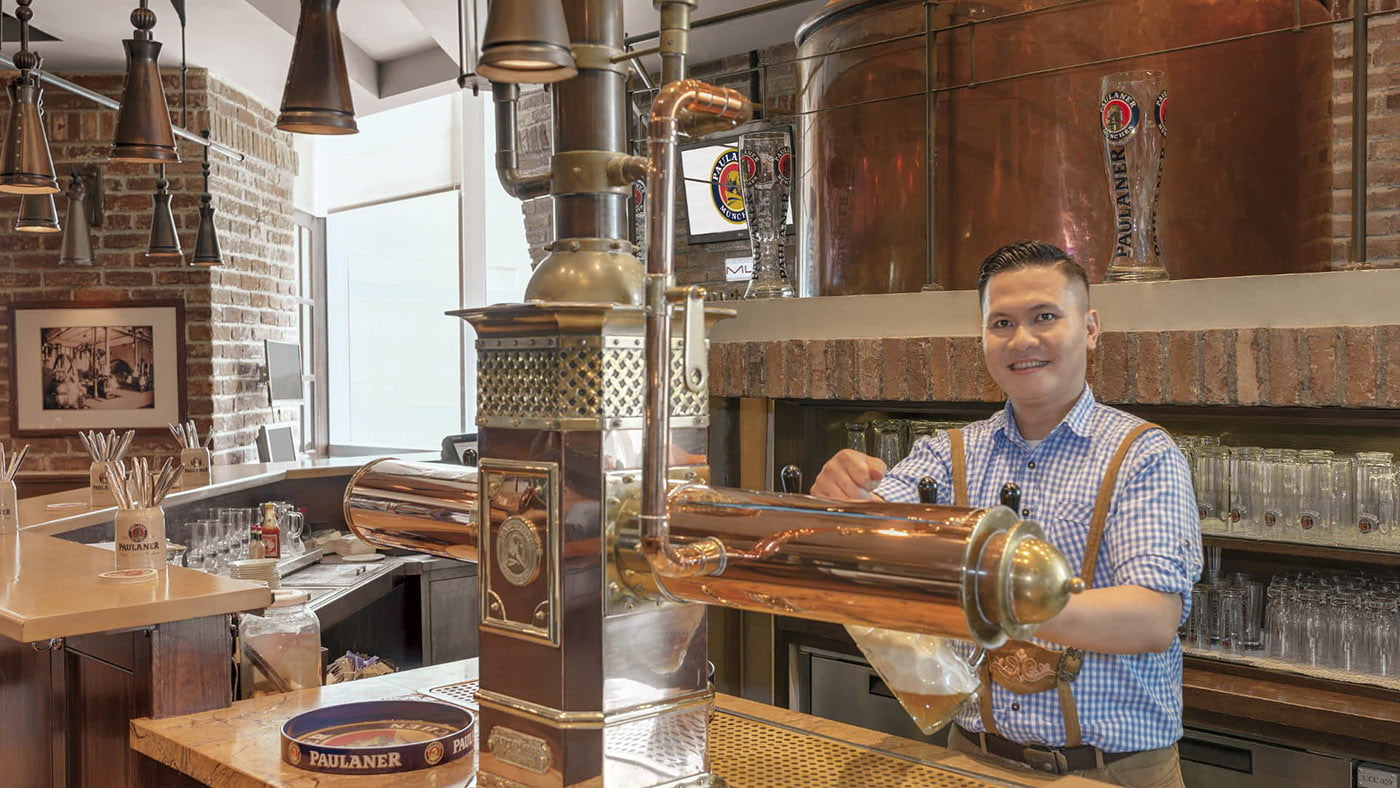 The German Bräuhaus brings Bavaria right into the heart of Jakarta! The only microbrewery restaurant in the country, Paulaner Bräuhaus Jakarta is a 200-seat establishment that serves traditional Bavarian food and its famed German beer, which is made only with authentic imported ingredients. The Bräuhaus offers a lounge with city views, nightly live music performances, and screens for major sports broadcasts. Every year, Paulaner also holds the only authentic Oktoberfest.
Kempi Deli
The Deli offers homemade produce such as dry pasta, bread, sausages and cold cuts as well sweet temptation of freshly made pastries, bakeries and cakes.
OKU Restaurant
The Japanese premium restaurant OKU at Hotel Indonesia Kempinski Jakarta is helmed by Chef Kazumasa Yazawa. OKU offers a modern take on Japanese dishes with traditional flair, combined with its Zen-like atmosphere and laidback jazzy vibes, makes it perfect for business lunches, special-occasion dinners and after work destinations.
Kempinski The Spa
Next to the rooftop pool and tropical garden on 17th floor, guests can also relax at world class Kempinski 'The Spa' by having a rejuvenating treatment. The fully equipped gymnasium and fitness center offering breath-taking 360 degrees view of Jakarta and houses top international-brand equipment. A heated outdoor whirlpool, sauna and steam room are also available.
Hotel Indonesia Kempinski Jakarta opens its door to provide the most luxurious European service and guest rooms in town.
Alun Alun Indonesia Boutique Store
During their visit, guests also can drop by and shop for beautiful and authentic Indonesian crafts at the lobby floor store. The boutique store is open every day from 08:00 to 21:00.
Location, location, location
Being adjacent with Grand Indonesia Shopping Mall, a mixed-use complex with premium facilities that provides one-stop solution entertainment, Hotel Indonesia Kempinski Jakarta will be the best option for visitors who look for first class service and facility.
Hotel Indonesia Kempinski Jakarta now has easy access to and is within walking distance of Jakarta MRT's Bundaran Hotel Indonesia station.
Jakarta Mass Rapid Transit, or Jakarta MRT, is a rapid transit system in Jakarta, the capital city of Indonesia. The railway is colloquially named Ratangga, which means "war chariot" in the ancient Javanese language. The system is operated by MRT Jakarta Corporation, a municipally owned corporation of the city of Jakarta.
It is the first subway, or underground railway system, in Indonesia. It operates 285 trips daily from 5:00am until midnight. Phase 1 of the project has a route from Lebak Bulus (South Jakarta) to Bundaran Hotel Indonesia, or Bundaran HI (Central Jakarta), with only 30 minutes' travelling time for ultimate convenience.
About Kempinski
Created in 1897, Kempinski Hotels is Europe's oldest luxury hotel group. Kempinski's rich heritage of impeccable personal service and superb hospitality is complemented by the exclusivity and individuality of its properties. Kempinski now comprises a portfolio of 78 five-star hotels and residences in 34 countries and continues to add new properties in Europe, the Middle East, Africa, Asia and the Americas.
Each one reflects the strength and success of the Kempinski brand without losing sight of its heritage. The portfolio comprises historic landmark properties, award-winning urban lifestyle hotels, outstanding resorts, and prestigious residences. Each one imbues the quality guests have come to expect from Kempinski while embracing the cultural traditions of its location.
Kempinski is a founding member of the Global Hotel Alliance (GHA), the world's largest alliance of independent hotel brands.
www.kempinski.com • www.discoveryloyalty.com
Hotel Indonesia Kempinski Jakarta
Jl. M.H. Thamrin No. 1
Jakarta 10310 Indonesia
+62 21 2358 3800
+62 21 2358 3808
Info.jakarta@kempinski.com • www.kempinski.com/jakarta