In the heart of Tallinn is the old town, a UNESCO World Heritage site and one of the best preserved medieval towns in the world.
Located on the edge of Politsei Park, just steps away from the city center, Hilton Tallinn Park ensures an unforgettable stay.
Guests can take in the spectacular view of the enchanting old town and harbour, showcased to their fullest by the hotel's captivating modern glass structure. Close to all major business and tourist attractions, it is an ideal venue for business and leisure traveller alike.
Enjoy one of the 202 spacious guest rooms or upgrade your experience by booking one of the 27 executive rooms and suites, some even with a private Sauna.
With Hilton Tallinn Park comes the breath-taking panoramic view over the modern and medieval structures of Tallinn, providing an ambient sight to enjoy with a cup of tea.
Suites include a wide range of exclusive benefits including complimentary breakfast at The Able Butcher restaurant and access to the 11th floor Executive Lounge, where guests can study, work or read with complimentary drinks and snacks. In addition, Hilton Tallinn Park boasts cutting-edge conference facilities with 10 meeting rooms which include an elegant Grand Ballroom.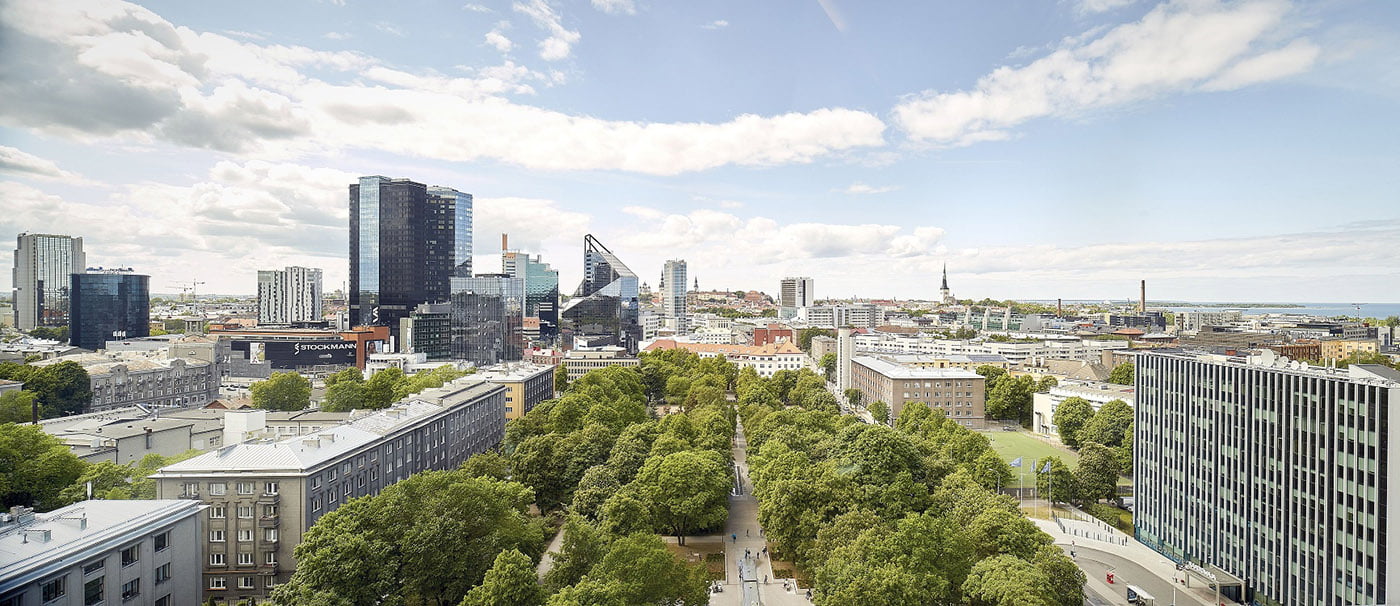 Eforea spa
Eforea spa at Hilton Tallinn Park enables you to relax in saunas, enjoy a swim in the indoor pool or de-stress in a hot tub, catch some sun on the terrace lounge chairs and indulge in massages where your body is pampered with award-winning luxury Elemis skincare products.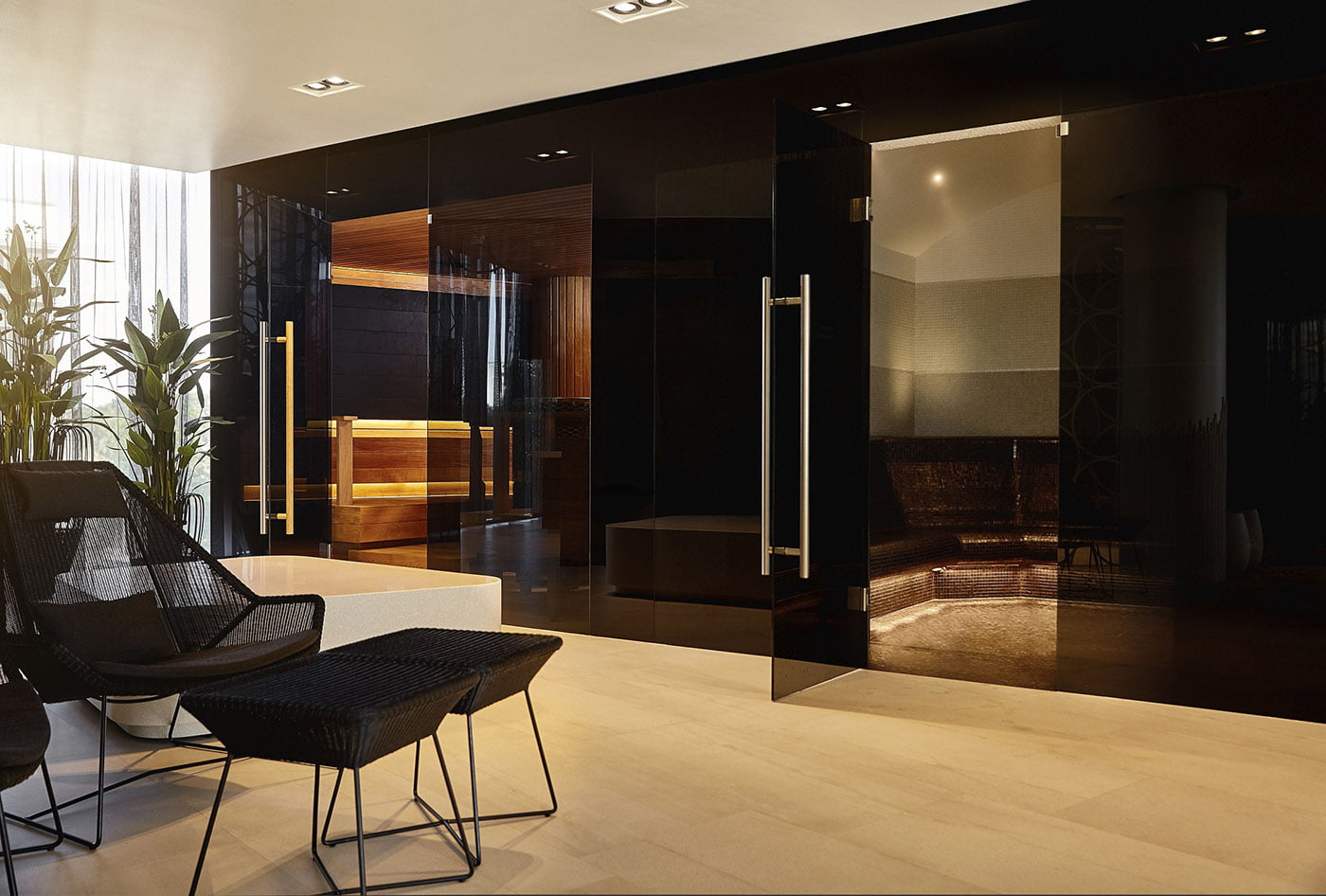 Culinary artistry at its best
Also located in the hotel is The Able Butcher signature grill house restaurant, which offers full transparent and authentic culinary journey where everything is served with passion. There guests have the opportunity to experience a wide selection of high quality wines and menu of dishes using the finest seasonal produce and inspiration of pure flavors. The hotel shares the building with highly rated Muse Beauty salon and Olympic Casino.
To top it all off Hilton Tallinn Park has charming location – right across the hotel guests can enjoy a leisurely morning walk in the park or use the outdoor gym equipment. Alternatively, guests can indulge in the wonderful sight of UNESCO world heritage site of Tallinn's old town, less than 10 minutes from the hotel.
Easily accessible, Hilton Tallinn Park is just 750m from Tallinn International Buss Station, 1,3km away from Tallinn Port and 4,3km away from Lennart Meri Tallinn Airport.
Explore Tallinn
There are countless fantastic sights to see nearby such as Kadrioru Park hiding beautiful 18th century palace with gardens, Russalka monument combined with the refreshing breeze from the beach and KUMU museum introducing local artistic heritage.
Located on the edge of Politsei Park, just steps away from the city center, Hilton Tallinn Park ensures an unforgettable stay.
Tallinn old town is surrounded by a city wall and numerous defence towers that have stood the test of time. The streets are covered with centuries-old cobblestones and are lined with former magnificent merchant houses and several medieval churches.
Sights to see in Tallinn
The Kiek in de Kök fortification museum with underground bastion passages constructed in the 17th-18th centuries
Seaplane Harbor with about 200 authentic items from submarines to icebreakers
Telliskivi Creative City which consists of disused Soviet factories converted into vibrant, artist-friendly creative economic district with countless quirky businesses.
The e-capital of Europe
Tallinn is well known for its outstanding digital advancements. The internet in Estonia is recognized as a basic human right, making it a leader in IT, cybersecurity and e-governance and Tallinn is named the Silicon Valley of Europe.
Estonia outperforms all countries in the Index regarding digital public services. It scores very highly on cloud usage, remote working, employment of ICT specialists, and more – demonstrating key strengths across all categories of digital development.
The vibrant city is celebrated in tech circles for giving birth to unicorns like Skype, Wise, Bolt, Glia, Veriff and more. Estonia leads Europe in startups, unicorns and investments per capita.
European Green Capital for 2023
Tallinn is considered a green city in Europe and has been crowned the European Green Capital for 2023, making it a perfect location for eco-conscious travellers.
It stands out among European capitals with its clean air and species richness thanks to its biodiverse nature and extensive green network. The coast of Tallinn Bay is an exciting experience consisting of interesting urban spaces and eye-catching architecture, the harbours, natural beaches and parks and natural areas of minimal human interference. Tallinn follows the objective of climate neutrality, reducing carbon emissions by 40% by 2030 (compared with 2007), and will be a climate-neutral capital by 2050.
Sustainability at Hilton Tallinn Park
Hilton Tallinn Park runs an annual 'LightStay' program as part of the hotel's journey towards 2030. Team members put in extensive efforts to meet energy, water and waste reduction goals. Waste is managed through numerous creative projects such as composting used coffee in collaboration with a local floriculture company. Recycling is encouraged and waste segregation containers are available throughout the hotel.
In order to control energy usage and air quality, the installation of motion sensors and split-light zones has taken place. LED lighting potentially saves over 30% on electricity.
For water efficiency, the hotel has installed water restrictors. In addition constant monitoring of water meter readings, condition of bathroom fixtures, plumbing connections takes place in order to avoid leaks, damages and to identify problematic areas.
Social Contributions
Hilton Tallinn Park has had considerable environmental and social impact. Team members actively participate in local parks or zoo cleanings during Earth Week, World Clean-Up Days and more.

The hotel has also collaborated with numerous charitable organizations such as Dream Day which fulfils the dream day of chronically ill children. Team members are actively involved in Food Bank activities and help pack goods into boxes to be delivered to people in need.
Carbon Offset
Hilton, in partnership with South Pole, provides clients with carbon neutral meetings by investing in high-quality carbon reduction projects aligned with the United Nations' Sustainable Development Goals and Hilton's 2030 Goals.
+372 630 5333
[email protected]
www.hilton.com