The clusters of small islands surrounding the main island of Langkawi keeps it well-protected from large swells and makes it an ideal destination for spending a relaxing day cruising, fishing, island hopping or a romantic castaway picnic on a deserted island beach.
Langkawi has numerous diverse activities ranging from extreme events such as water-sport activities and parasailing to the more relaxing mangrove trip or spectacular Cable Car ride to the top of Mount Chin Chan.
Surrounded by beauty, nature and caring staff, the place to stay at Langkawi is Casa Del Mar.
Visiting Langkawi
Numerous flight connections are currently being offered. For flight arrivals, below are the airports guests can choose for entry to Langkawi:
Penang International Airport
Subang Airport (Selangor)
Kuala Lumpur International Airport
Kuala Lumpur International Airport 2 (KLIA 2)
Singapore Changi International Airport
Guangzhou Baiyun International Airport
Hong Kong International Airport
Airlines that currently fly into Langkawi International Airport:
AirAsia (from Guangzhou, Hong Kong, KLIA, Penang & Singapore)
Firefly (From Subang & Penang)
Malaysia Airlines (From KLIA)
Malindo Air (From KLIA & Subang)
SilkAir (From Singapore)
Tigerair (From Singapore)
Arrival to the island from the mainland by ferry is also available. Ports from Malaysia include: Penang (approximate 3-hour travel time). Kedah and Perlis (both ports approximate 1 hour travel time). Thailand – Satun (approximate 1 hour travel time) or Koh Lipe (approximate 2 hours travel time)
Casa Del Mar, Rooms with a View
Surrounded by beauty, nature and caring staff, the place to stay at Langkawi is Casa Del Mar. The beautiful resort offers a Seaview Room, Seaview Studio Suite, Beachfront Studio Suite, Seaview Junior Suite and Seaview Deluxe Suite.
Seaview Room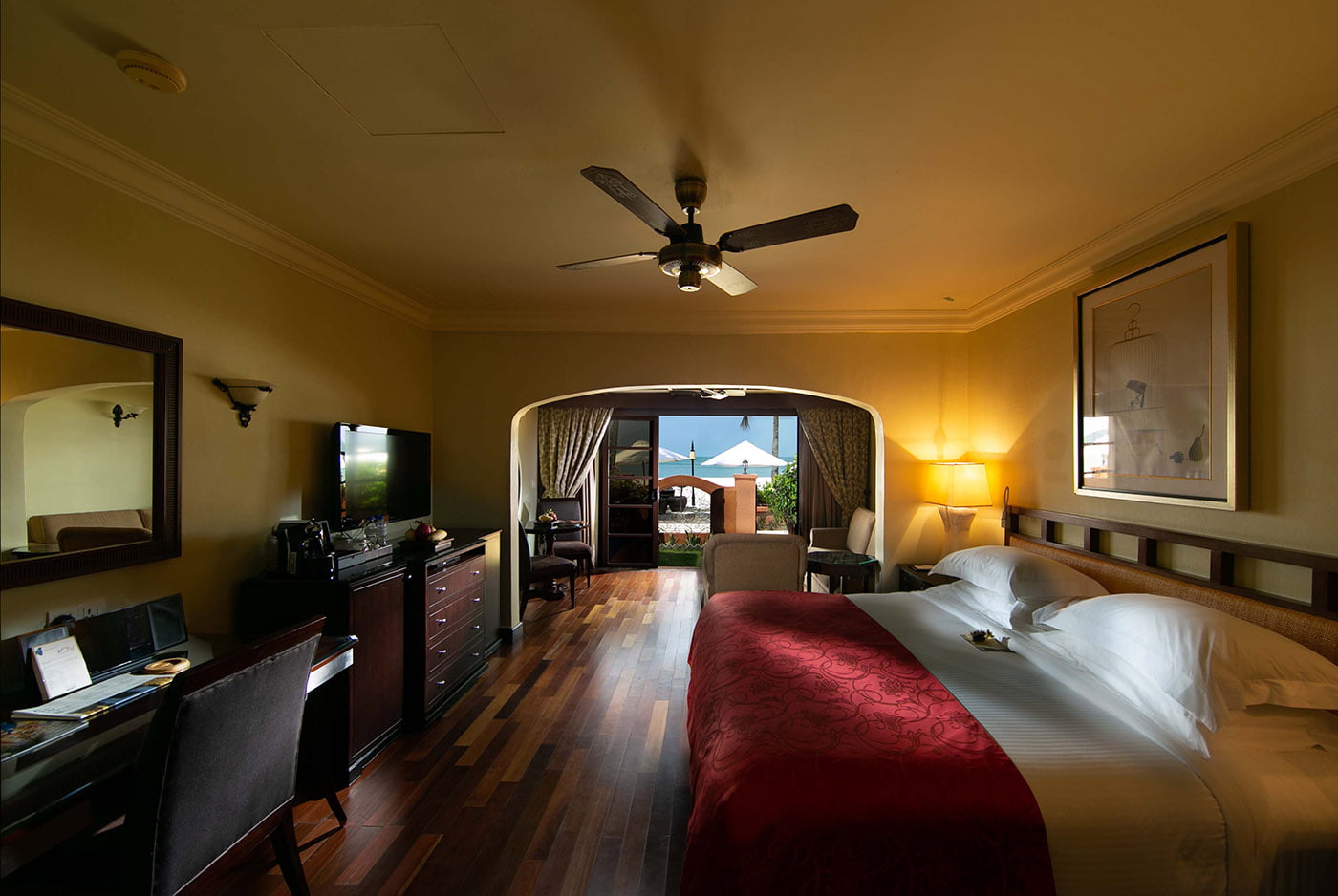 Located on the upper floor, guests can grab a slice of tranquillity from their balcony overlooking the ocean. With an ample 32sqm floor space, the Casa Seaview Room hosts a wide range of amenities to make every guests stay as comfortable as possible. Amenities include: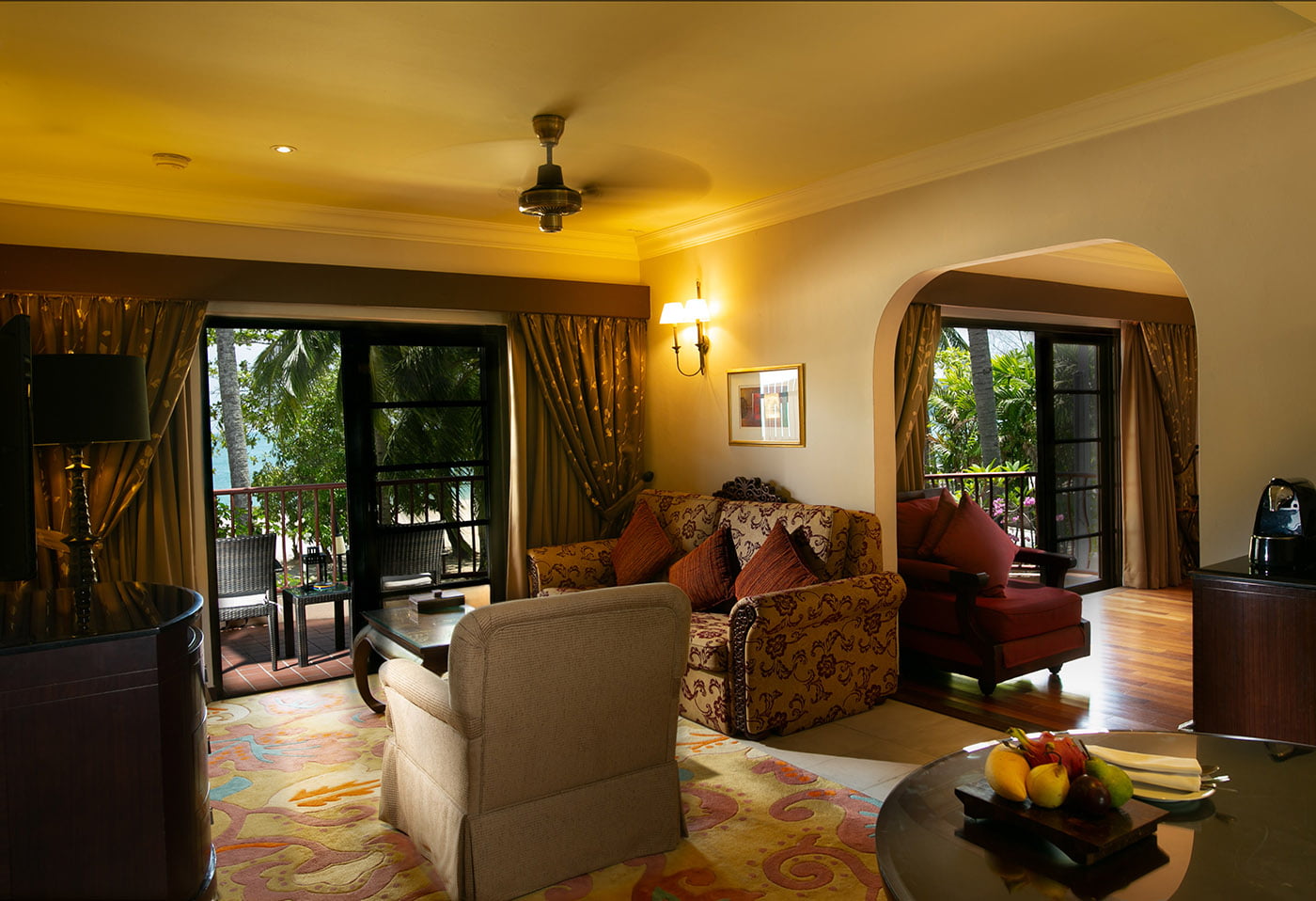 Ceiling fan
Air-conditioning
42″ LCD TV
Cable TV Channels
Coffee Machine
Mini bar
Telephone with IDD
Hair dryer
Iron & Ironing Board
Private bath with shower
In-room safe deposit box
iPod docking station
Wi-Fi
Parquet floor
Beaches
Drawing thousands of visitors every year, Langkawi's beaches are renowned for their bright white sand and fine powdery softness. The waters around Langkawi feature a beautiful sandy tint and shallow waters that are warm and swimmer friendly. The mild currents, no surfing, and a small number of sea creatures make this a beach experience to remember. Experience the best, clean, safe, accessible beaches to the public.
Water Sports
Casa Del Mar guests can immerse themselves in a variety of enjoyable water sports.
Jet Ski and Banana Boating at Pantai Cenang: All along Pantai Cenang, guests can find many different operators offering these activities at nominal fees.
Sea Kayaks: Guests can take to the water and enjoy lunch on a deserted island.
Palau Payar Snorkeling and Scuba Diving: Discover the bottom of the sea with a snorkeling or scuba diving trip. East Marine offers guided, full‐day snorkeling and diving trips to Palau Payar Marine Park. Each trip starts with a hotel transfer to the jetty where guests board a boat for the one‐hour trip to Payar Island. Lunch is included in the package.
Dining at Casa Del Mar
La Luna: An exceptional beach dining experience especially. As the sunset casts its warm glow across Pantai Cenang, this romantic beach setting will sway guests with the cooling breeze and sound of the sea.
La Sal Restaurant: Open from morning breakfast till evening dinner, La Sal Restaurant offers the best combination of modern Asian and Western cuisine with a focus on high-quality, everyday fresh produce.
La Sal's Pool Bar: Over at the Pool Bar, guests can enjoy a comprehensive beverage menu including an extensive wine and spirit list. The exclusive cocktail list balances classic cocktails with innovative concoctions — an authentic tropical experience with every sip.
Cocktail concepts are created using only the freshest juices, hand-picked local fruits, herbs and spices, infused spirits and all put together with a fun and friendly flare. Guests can pair up some of these cocktails with delicious food dishes for a unique island experience.
Top Travel Tips
Climate: The seasons in Langkawi are opposite to the Eastern side of Peninsular Malaysia, Malaysian Borneo, Singapore and Kuala Lumpur. When it is raining there, it is normally excellent weather on the other side. In general, Langkawi has a much dryer rainforest than its East coast cousins. Even in the rainy season the average rainfall is less than other nearby destinations as Casa del Mar is located well away from the mainland's mountain ranges. Even during the wet season, it is seldom to see continuous rain for extended periods. During the wetter periods, it rarely rains for more than 2-3 hours at a time.
Language: The official Language is Bahasa Malaysia. However, English is widely used and understood.
Business Hours: Langkawi practices slightly different office hours from most of the states in Malaysia. Government offices are open from Saturday to Thursday from 8.15 am and close at 4.45 pm. They are closed on Friday and during public holidays. Banks are open for business at 9.30 am and close at 3.30 pm from Monday to Friday and on Saturday banking hours are from 9.30 am to 12.00 noon. Money changing outlets can be found all along Pantai Cenang as well as the airport that open daily. However, note that some private businesses and shops might be closed on Friday and Saturday morning.
Currencies: In Malaysia Ringgit (MYR). Most currencies are accepted for exchange into MYR. Major credit cards are accepted at most major shopping complexes, restaurants and hotels. Tourists are reminded to have their passports ready when they wish to exchange traveler's cheques.
Emergency Facilities & Health Services Langkawi has a General Hospital as well as numerous local private clinics and doctors, which are linked with pharmacies nearby. There is also an ambulance, fire brigade, local police, army and navy bases located on the island. Tsunami warning systems are installed, and notification systems are in place.
Electricity: Voltage is 220 – 240 volts AC at 50 cycles per second. Standard 3-pin square plugs and sockets.
Religion: The official religion is Islam, although there is a proportion of Buddhists, Hindus and Christians as well. Mosques and temples can be found in Langkawi. Most of the religious festivals are gazetted public holidays and are celebrated regardless of race or creed.
Casa Del Mar's Satkara Spa
The soul of the Satkara Spa is inspired from the solace of the rainforest, the balance of the oceans, the energy of the mountains and the healing effects of human touch while incorporating ancient Malaysian traditions and rituals.
The spirit and soul of the 99 beautiful Islands have touched every element of our spa, and Casa Del mar has combined these traditions with western level hygiene standards. Satkara Spa is a space where guests can exchange stressed states for tranquillity and embrace treatments that renew energies and evoke delicious relaxation.
Spa products have been developed in line with Casa Del Mar's commitment to rediscovering Malaysian traditions, which were handed down from generation to generation; refining the essence and creating brilliant, all natural synergies. In line with this commitment, where possible, the spa uses traditional, organic and fresh ingredients.
Casa Del Mar
Jalan Pantai Cenang Mukim Kedawang 07000
Langkawi Kedah Darul Aman Malaysia
+60 4 955 2388
+60 4 955 2228
info@casadelmar-langkawi.com
www.casadelmar-langkawi.com