For almost a century, Canada has regularly supplied timber to Japan; and, over this course of time, Canadian exporters of timber products have earned the trust and respect of their clients—particularly for their dedication towards understanding the specific needs of their Japanese market. Meanwhile, Japan remains the largest overseas market for top-notch Canadian wood products.
This dynamic trade relationship in forest products has been a key aspect of Japanese-Canadian ties, through the last five decades.
Canada Wood Japan — a part of Canada Wood Group, a non-profit organization promoting the use of Canadian wood products in the construction and wood-in-manufacturing sectors — talked to Bridges about the significance of the Japanese market, as well as current trends that bear impact upon it.
For its commitment to quality and sustainability, Japan has long-looked to Canada as its primary supplier of responsibly-sourced timber.
How important is the Japanese market for Canadian wood exporters, and what factors contribute to its significance? Additionally, what specific characteristics of Canadian wood make it appealing to Japanese buyers?
Japan holds the position of being Canada's most high-value offshore market for forest products, with Canadian export sales to Japan exceeding CAD $1 billion annually. Over the past 50 years, the trade of forest products has remained a crucial aspect of Canada-Japan relations, with Japan emerging as the largest overseas market for premium timber products sourced from Canada. For nearly a century, Canada has been consistently supplying lumber to Japan, and this longstanding commitment has earned Canadian exporters a strong recognition from Japanese customers.
The Japanese market greatly values the provision of high-quality lumber from Canada, as well as Canada's proactive approach in addressing specific building concerns in Japan, such as seismic stability, fire safety and energy efficiency. According to a 2019 survey conducted by a third party, approximately 74 percent of Japanese clients consider Canada a frontrunner in wood construction technology, surpassing other exporting nations by a significant margin. This recognition underscores Canada's efforts to deliver top-notch products and find innovative solutions to meet the unique needs of the Japanese market.
Could you discuss recent trends and opportunities in Japan for Canadian wood exporters? Are there any emerging sectors or preferences within the Japanese market that Canadian exporters should be aware of?
In Japan, the demand for wood has traditionally been driven by low-rise residential housing. However, recent advancements in technology and revisions to building codes have opened up new opportunities for wood usage in non-traditional sectors. This includes mid-rise hotels, offices, large-scale commercial facilities like logistics warehouses, and even hospitals. As a result, the market share of wood in Japan's nonresidential sector has been steadily increasing over the past decade and now approaches nearly 10 percent.
While wood currently represents 8.3 percent of the overall nonresidential construction market in terms of floor area, its share rises to 27 percent in sub-sectors such as medical facilities, elderly care centers, and social welfare institutions. The tourism industry also promotes the environmental benefits of wood construction, utilizing the natural aesthetic of mass timber and coastal species that appeal to Japanese consumers. Additionally, there is strong potential for growth in the agricultural construction niche market.
Canada Wood Japan actively supports the Japanese non-residential market through demonstration projects and technical support programs. One of the examples is the Canada-Tohoku reconstruction which was a $4.5 million initiative utilized Canadian wood-frame construction techniques and materials to assist in the reconstruction of community facilities in regions of Japan affected by the 2011 Tohoku earthquake. By showcasing the practical application of Canadian wood and building technology, this project serves as a prime example of how these solutions can be successfully employed in large-scale non-residential buildings.
Another recent demonstration project led by Canada Wood Japan is the incorporation of nail-laminated timber (NLT) technology into the International Exchange Centre building at Tokyo University of the Arts. Situated within the university's Ueno Campus, this innovative project highlights the versatility, sustainability, and cost-effectiveness of NLT within hybrid steel and wood frame structures. It serves as a compelling example of how Canadian wood and building technology can be effectively utilized in non-residential constructions.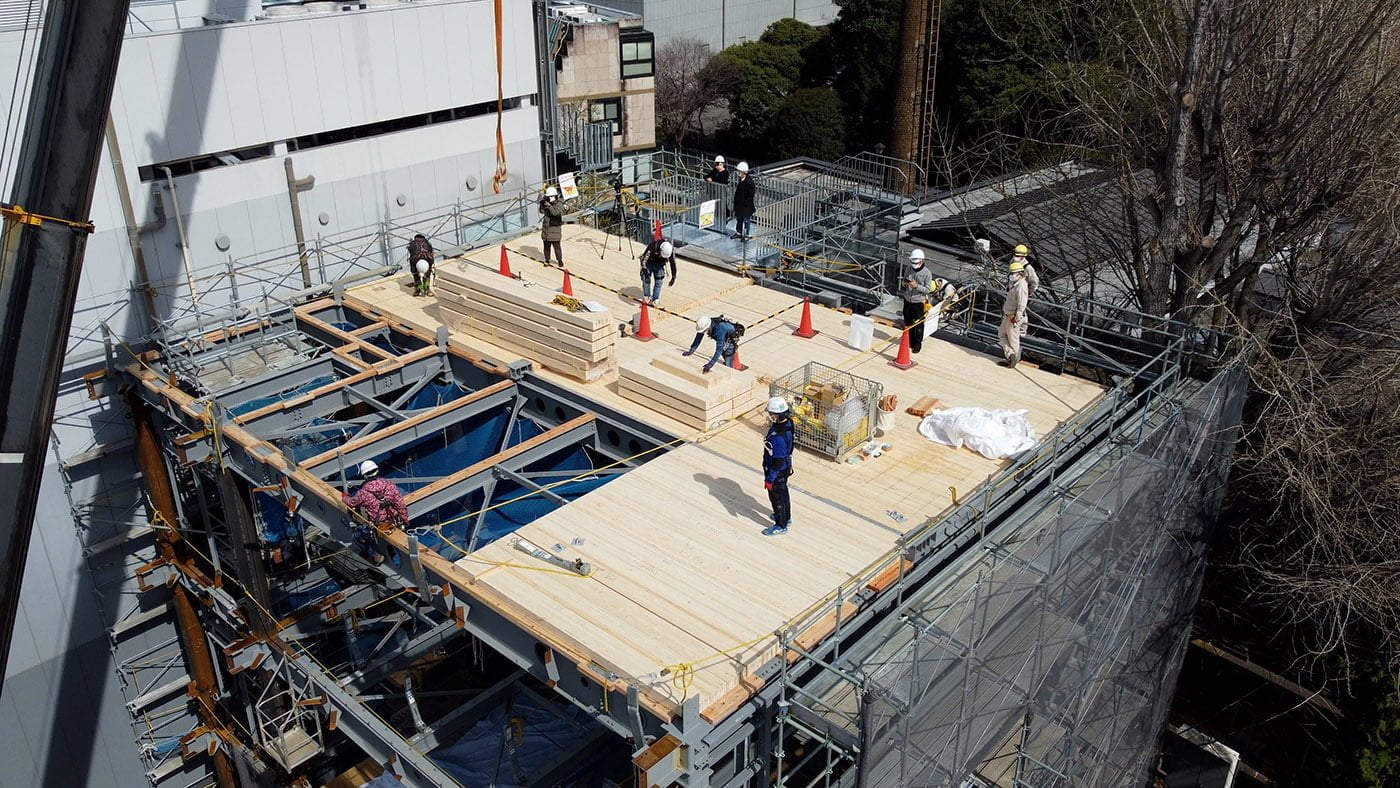 In light of global sustainability concerns and changing consumer preferences, how has the demand for Canadian wood in Japan evolved? Are there any notable sustainability initiatives or certifications in Japan that Canadian exporters can leverage to enhance market access and competitiveness?
Japan is making significant progress in its roadmap to combat climate change, and one of the key areas it has targeted for a more sustainable construction sector is to use mass timber in mid-rise sector. To support Japan's ambitious goal of achieving net-zero emissions, Canada Wood collaborates with various Japanese stakeholders including research institutes, associations, government agencies, and academic institutions. Together, we conduct research and develop innovative building solutions specifically tailored to the Japanese market. Examples of these solutions include the MIDPLY Shearwall system, NLT floor system, and large-span truss system.
The environmental benefits of these systems are reinforced by Canada's sustainable forest management practices. Canada boasts 158 million hectares of forests that are certified to internationally recognized third-party forest certification schemes such as PEFC and FSC. In fact, Canada leads the world in forest certification, with its certified forests accounting for 35% of the global total, despite Canada's forests representing only 9% of the global forest cover. This certification ensures that the wood used in these innovative building solutions comes from responsibly managed forests, further enhancing their green attributes.