Most animals have their own awareness day, but these days are often chosen at random. That is not the case for giraffes. World Giraffe Day is celebrated on the equinox – get it? The longest day or night of the year dedicated to the animal with the longest neck and legs… so apt.
Not on many people's lists of animals they need to see when on a safari, still, everyone is in awe when they do spot this wondrous creature. Whether standing together in a tower, moving in a journey or simply bending awkwardly to drink water from a waterhole, you best make sure you have enough memory on your camera when you do encounter this lanky herbivore.
The giraffe is one of the most iconic species of Africa. As the tallest mammal on Earth, these creatures are both weird and wonderful, with their long legs and necks, large eyes, enviable eyelashes, striking coat patterns, ambling gait and calm demeanor.
We have put together a selection of some of our favorite Wilderness Safaris camps where you can encounter giraffes.
Chitabe Camp and Chitabe Lediba
Chitabe Camp is located in the Chitabe Concession, which covers 22 000 hectares of pristine Okavango Delta wilderness. This unique area harbours a massive variety of habitats within close proximity, giving rise to an impressive diversity of species. The mix of Okavango and Kalahari ecosystems makes for an excellent home to an abundant array of herbivores: giraffe, buffalo, red lechwe, tsessebe, impala and elephant, which in turn support the larger predators: lion, leopard, spotted hyaena, cheetah and wild dog.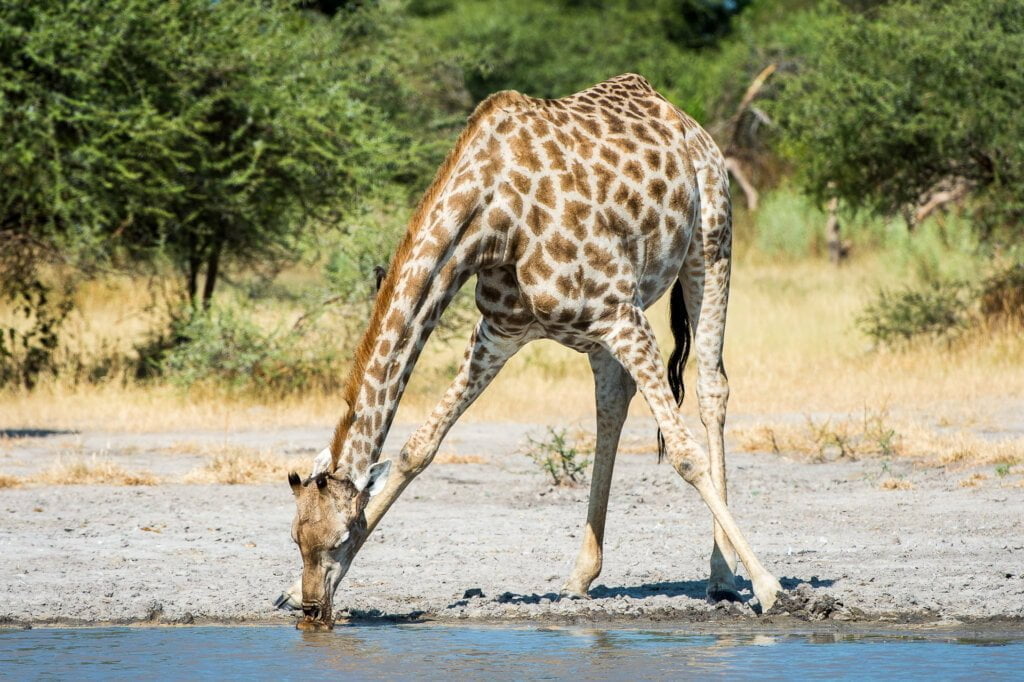 Giraffe only need to drink every few days – fortunately, as it is very dangerous for them to access water. Their neck is too short to reach the ground, so they have to spread their legs and bend clumsily, making them vulnerable to predators.
Mombo
Botswana's Mombo Wildlife Area is known as "the Place of Plenty," highlighted by the intense concentrations of plains game and predators here in the Okavango Delta. These include all the big cats, of which lion sightings are frequent. Leopard, spotted hyaena, large herds of buffalo, elephant, giraffe, blue wildebeest, Burchell's zebra, and more, abound, while cheetah and wild dog sometimes move through the area.
Characterized by its long legs and neck, and distinctive spotted pattern, many people first believed the giraffe was a cross between a leopard and a camel, which is reflected in its scientific name, Giraffa camelopardalis.
DumaTau
DumaTau is located close to the source of Botswana's Savuti Channel, with access to the Linyanti Swamp, floodplains and mopane woodlands, thus offering an excellent combination of habitats. Well known for its elephant concentrations, which congregate along the waterways and lagoons during the dry winter months, the area is also renowned for general wildlife including red lechwe, Burchell's zebra, giraffe, buffalo and warthog. Predator sightings of lion, leopard, cheetah, wild dog and spotted hyaena are very good too.
Giraffes' extreme height allows them to eat leaves and shoots located much higher than other animals can reach. Their long, dextrous tongues are helpful when feeding as they help extricate leaves from thorny trees, acacias being one of their favourites. Spending most of the day eating, a full-grown giraffe consumes over 45 kg (100 lb) of leaves and twigs every day.
Magashi
Teeming with plains game, Magashi in Rwanda's Akagera National Park now also boasts a healthy population of lion, which were reintroduced into the park in 2015 after a 20-year absence, as well as eastern black rhino which were reintroduced in 2017. On expertly-guided game drives, walks and boating trips, guests view a wide range of wildlife, including buffalo, lion, elephant, giraffe, spotted hyaena, zebra, topi, roan, eland, and regularly enjoy successful sightings of otherwise elusive leopard. The park also boasts 500-plus species of birds.
The male giraffe is both taller and heavier than the female. Both sexes have skin-covered knobs, called ossicones, on the top of their heads. Females' ossicones are smaller and have a tuft of fur on top, while the male's ossicones are bald on top.
Hoanib Skeleton Coast Camp
Hoanib Skeleton Coast Camp's location – at Namibia's Skeleton Coast National Park, and within the true Namib Desert – is home to a rich diversity of wildlife, boasting the Kaokoveld's best viewing of desert-adapted wildlife and access to vast, remote and isolated wilderness. Almost miraculously it seems, in this stark environment enormous elephant thrive, along with giraffe, lion and brown hyaena. Gemsbok (oryx), springbok, steenbok, scrub hare, and inquisitive ground squirrels are also seen. Entirely different to the rugged mountains and valleys inland, the Skeleton Coast shoreline hosts Cape fur seals in their thousands, along with black-backed jackals and brown hyaena. Birds are equally diverse, with regular sightings of endemics like Rüppell's korhaan, Benguela long-billed lark and lark-like bunting.
Giraffes sleep less than two hours a day. In general, they sleep with their feet tucked under them and their heads resting on their hindquarters, but they can also sleep for short periods of time standing up.
Book your long-awaited African journey now.
Originally published in: wilderness-safaris.com